Dr. Royden Stanford, DPM, DABPM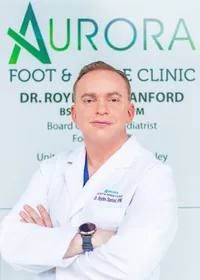 Dr. Royden J. Stanford is a board certified Podiatrist and Foot Surgeon.
Dr. Stanford grew up in Calgary, Alberta. He attended Brigham Young University for his undergraduate studies, graduating with a Bachelor of Science Degree in 2004. His graduate research project studied the effects of magnesium deficiency on cognitive development and hearing. Dr. Stanford obtained his Doctorate in Podiatric Medicine from the Ohio College of Podiatric Medicine in Cleveland, Ohio in 2008. He proceeded to complete a three year surgical residency at the Cleveland Louis Stokes Veteran's Affairs Hospital in Cleveland, Ohio. His residency training involved providing instructions to students, and had an emphasis on reconstructive surgery, plastic surgery, vascular surgery, trauma, sports medicine, wound care, and infectious disease and limb salvage.
Dr. Stanford had the opportunity to work with Mark Mendeszoon, DPM as a resident, who is a former Olympic runner and specialist in biomechanics of athletes specifically prescribing orthotic devices for runners of all levels, including collegiate and professional athletes.
Upon completion of residency training in 2011, Dr. Stanford joined the doctors of Capital Foot and Ankle Care Centre of Southern Maryland and enjoyed private clinical practice in 5 area clinics, as well as extensive elective surgical cases performed at the group owned Surgical Center located in Great Mills, Maryland. Dr. Stanford relocated briefly to Memphis, Tennessee to work alongside the doctors of the Mid-South Foot & Ankle Clinic prior to making his final relocation here to Langley, British Columbia.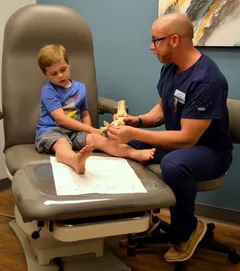 Dr. Stanford is happy to live nearby with his family. He is a former competitive bodybuilder, CrossFit enthusiast, enjoys strength and conditioning training and coaching, is a former Ski Patroller, former competitive cyclist, and Chief Scout. He enjoys being active, especially in the outdoors, and spending time with family and friends.
Associations and Affliations: